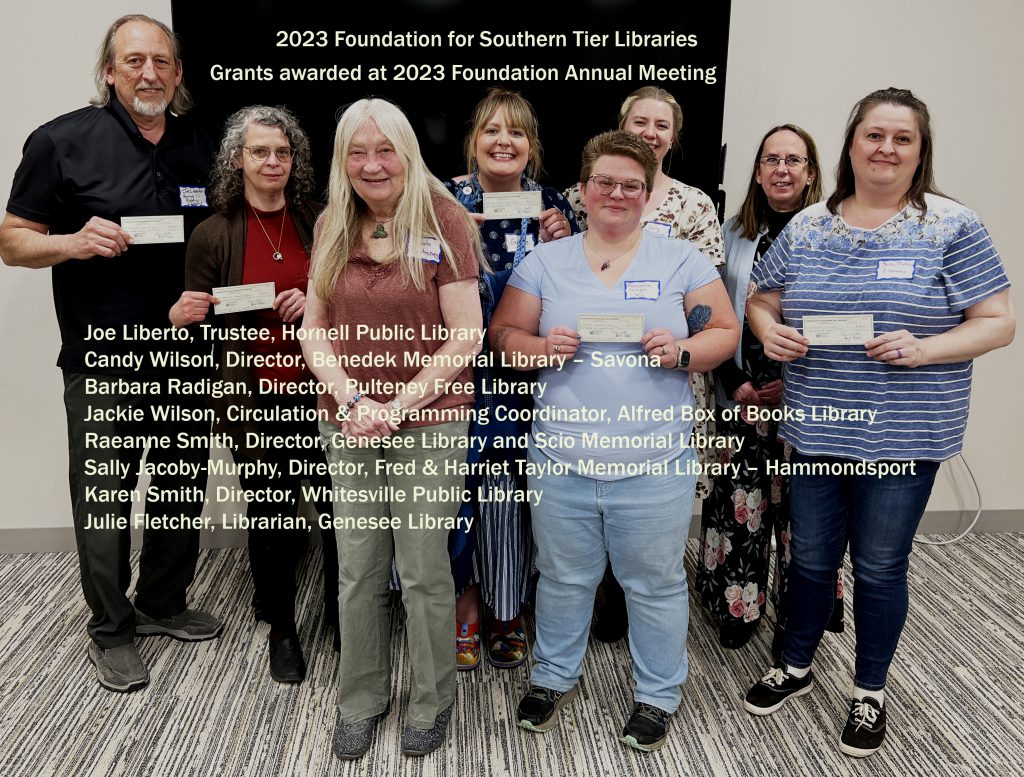 Foundation Awards $18,514 in 2023 Grants to Libraries 
Foundation's amazingly fantastic online auction             September 2021!
There was fierce bidding over items such as
Cases and assorted gift baskets of wine
Two-night weekend stay at the Corning Radisson
Canon copier
Clemens Center box seats for "An Officer and a Gentleman"
Thank you to our generous donors
Kitty Erlacher, Corning NY
Staples, Big Flats
Dale/Kathleen Wexell, Corning
Van Etten Antiques and Collectibles, Corning
Pat Selwood, Penn Yan
Collectibles Emporium, Corning,
Corning Radisson, Corning
Vitrix Glass Works, Corning
Richard Kurchey, Corning
Connors Mercantile, Corning
Park View Wine and Spirits, Hammondsport
Soul Ease Medical Massage, 55 Ferris St., Corning
Hesselson's, Elmira Heights
Turtle Leaf Café, Elmira
Hilltop Inn, Elmira
Swain Ski Resort, Swain
Point of the Bluff Vineyards, Hammondsport
Antique Revival, Big Flats
Alise Irwin, Penn Yan
This and That, Corning
GCP Discount, Horseheads
Amy Griffith, Big Flats
Clemens Center, Elmira
Rye Bar and Restaurant, Elmira
Ageless Spa, Corning
AJ's Hair Salon, Corning
Thank you to our generous donors
William & Bonnie Weber.Branchport
Mengel, Metzger and Barr, Elmira
Bakers Bridge Antiques, Alfred Station
Alco Federal Credit Union. Wellsville
Walker Business and Staffing Services, Wellsville
Wilson Beef Farms. Canaseraga,
Allegany First Federal Credit Union, Fillmore
Arthur & Nicole Weber, Canton
Meier Family Foundation, Elmira
2020 Annual Foundation Meeting
On Thursday, September 10ththe Foundation for Southern Tier Libraries held its Annual Meeting online. The virtual Annual Meeting was called to order at 5:05 p.m. by President Sherry Collins. Present were: Bonnie Weber, Denise King, Paul Webster, Peter Gamba, Dale Wexell, Rusty Wigg, and guests Barbara Radigan (Pulteney), Kathy Fuller (Bolivar), Candy Wilson (Savona), Chris Gallmann (Angelica), Tracy Savard (Watkins Glen) and Rayanne Smith, (Genesee). Brian Hildreth, Executive Director of STLS was moderator.
Sherry welcomed the participants, and put in an urgent plea for libraries to help recruit new board members for the Foundation.
The 2019 minutes were approved.
The 2019-2020 Financial report was approved
New Business: Because of the pandemic, the Board was unable to hold the Annual Meeting in May, as per the By-Laws, and no election of Board members was held. Therefore, the Board Members whose terms are expiring in 2020 will be appointed for another one-year term. Suspension of Article III, Section 3 of the By-laws was unanimously approved, for this extension of terms.
Grantees presented brief summaries of the programs supported by 2019 and 2020 grants. Barb Radigan had purchased a laptop for patron use, and was able to have STLS install WorkFlows on it, so she could continue library work from home. Kathy Fuller was able to have a remote Summer Reading Program.
Candy Wilson had parking lot lighting installed with the 2019 grant and was able to purchase public computers in 2020. Chris Gallmann was able to purchase and circulate 4 mobile hotspots to patrons with the 2020 grant.
Tracy Savard was able to broadcast Summer Reading Program live on Facebook, with 30 participants plus support from village merchants. RaeAnne Smith was able to purchase a book drop with the 2019 grant, and this year was able to make ADA compliant upgrades.
President's Report: Sherry asked that librarians help recruit new Board Members for the Foundation. Now that the meetings will be mostly virtual, it will be much easier for members to participate long distance.
Meeting adjourned 5:30 p.m. Respectfully submitted, Sherry Collins, President
2019 Annual Meeting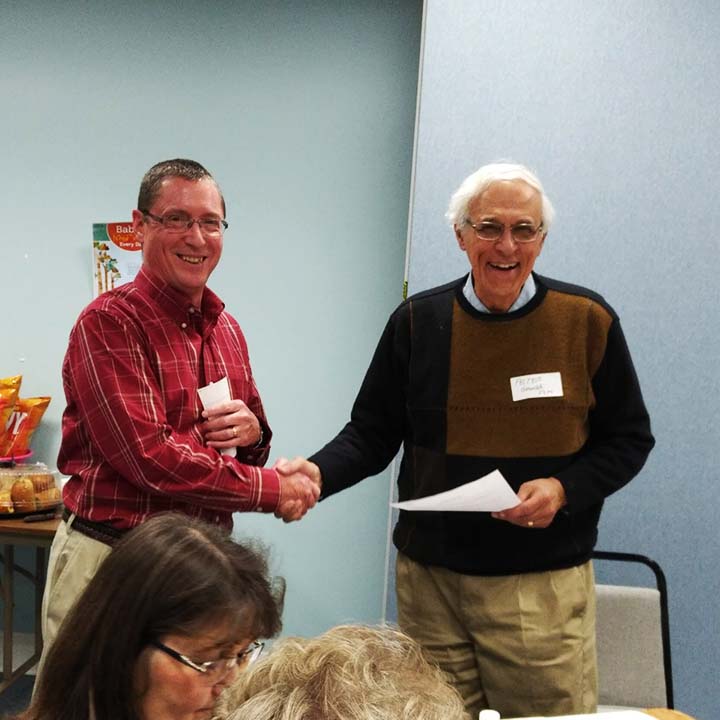 Meeting Minutes – April 30, 2019
Board Members and Staff Present: Sherry Collins, Peter Gamba, Bonnie Weber, Dale Wexell, Ristiina Wigg. Brian Hildreth
Guests: Justin Zeh, Director, Avoca and Prattsburgh; Michael Fay, Addison; Melanie Miller, Director, Alfred; Lynn Fulmer and Marsha Long, Trustees, Cuba; Amy Fleet, Youth Services and Sheryl L. Lamontai, Dundee; Michelle Hill, Director, Kathy Schumann, Mary Handy, Friendship; Raeanne Smith, Director and Konnica Sowers, Genesee; Kari Thomas, staff, Montour Falls; Angela Gonzales, Director, Penn Yan; Barb Radigan, Director, Pulteney; Judy Johnson, Director and Robin Lee Putnam, Richburg; Candy Wilson, Director, and Trustee Bill Fiske, Savona; Stephen Salino, Director, Watkins Glen; Kate Miller, Youth Services, Wellsville; Karen Smith, Director and Mike Smith, Whitesville
President Peter Gamba called the meeting to order at 5:05pm
Brief summary of 2018 Annual Meeting of the Foundation: "As President I welcomed everyone. Grant recipients received their awards and discussed their projects. We enjoyed an excellent dinner arranged by Vice-President Wexell. Then I made closing remarks and the meeting adjourned." President Peter Gamba
Election of Trustees: Dale Wexell, Nomination Committee, introduced the following slate of trustees to be re-elected for three-year terms:
Judy Phillips
Denise King
Dale Wexell
The slate was adopted unanimously.
Election of Officers: Dale Wexell, Nomination Committee, introduced the following slate of officers for two-year terms:
Sheryl Collins, President
Ristiina Wigg, Vice-President
Paul Webster, Treasurer
The slate was adopted unanimously.
President's 2019 Report: President Gamba discussed the Foundation's 2018 achievements and plans for 2019:
Through 2018, the Foundation has awarded a total of $49,980 in 54 grants to 26 libraries.
During the 2018-2019 fundraising year, the Foundation held its first annual wine gathering and silent auction in September at the Watkins Glen Harbor Hotel. In addition to raising funds, the event increased awareness of the Foundation, and connected with potential donors.
As a result of this event, the Foundation was able to award the largest grant total in its history. Total 2019 awards were $12,440, a 25% increase over 2018.
President Gamba ended by inviting the audience to join the Board, or become an event volunteer. Ristiina Wigg then invited representatives from the eleven recipient libraries to describe their completed grants.
The 2019 grants were announced as President Gamba presented checks to attending libraries:
Next everyone was invited to a dinner buffet organized by Vice-President Dale Wexell and much enjoyed by all!
Peter Gamba made closing remarks and adjourned the meeting at 6:45pm.
Respectfully submitted,
Ristiina Wigg
In 2013 the Foundation for Southern Tier Libraries sponsored the STLS "I Geek Libraries" Adult Writing Contest.